About us
---
Marelec is an electrical and mechanical service established in 2000. Services are divided in 4 major sections:
Mr Mauro Borg, trading as Marelec, has been in business for the past 14 years. 'Marelec' has been established in 2000, whereby we traded as a self employed. Since then, we have grown in both size and in employees employed, following a successful portfolio of clients undertaken during the years.
When selecting our employees, we ensure that the chosen candidates are professionals, out of which a high percentage need to be licensed by Enemalta Corporation. In this manner, we can ensure that there is a minimum of one licensed employee on each project.
Marelec offers a variety of services to its clients, which are outlined in the subsequent pages. We strive to offer to our clients a wide range of services available which include the latest technologies on the market. Moreover, we offer our clients the services of maintenance agreements, whereby we can offer our total support in all maintenance requirements, at the lowest lead times possible.
Apart from the services and installations offered, we also supply related items, including automation supplies and also water treatment supplies. We have been entrusted by foreign suppliers to import these related items directly and to represent them in the local market. These include Electro-LuminX® Lighting Corporation, Topway Global Inc. and V2 electronics.
Latest Works
---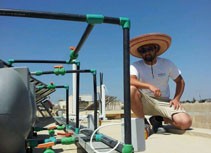 Secondary Water
Installation of 2 water tanks, one as the main supply and the other for re-using of water for flushing.